If you shop at Lowes Foods in Banner Elk, you have been asked at the check-out about donating food to Feeding Avery Families. You also see the bins of donated food displayed by the front door. The latest campaign collected more than 10,000 cans of Campbell's tomato and chicken noodle soup in just two weeks! Thank you to the very generous customers.
These cans of soup will be given to hungry families during our weekly Friday distribution and through our six Community Pantries. Read more about these.
This is part of the Lowes Foods "Friends Feeding Friends" food drive that has been around for more than 25 years. So far, their customers have contributed over 20 million pounds of food in three states. Read more about this on their website.
Lowes Foods is the local grocer that lives out its promise to help bring the community back to the table through our strong ties with local farms and suppliers, and our commitment to our neighbors, said Tim Lowe, Lowes President. Our Friends Feeding Friends food drive helps ensure that our neighbors have good food to eat, while also bringing our community together to support one another.
Since the COVID-19 crisis begin this spring, Feeding Avery Families has received an average of 7,000 pounds of food each month from this program. The soup donations are very timely as the weather cools, schools are in session and demand from those in need is high.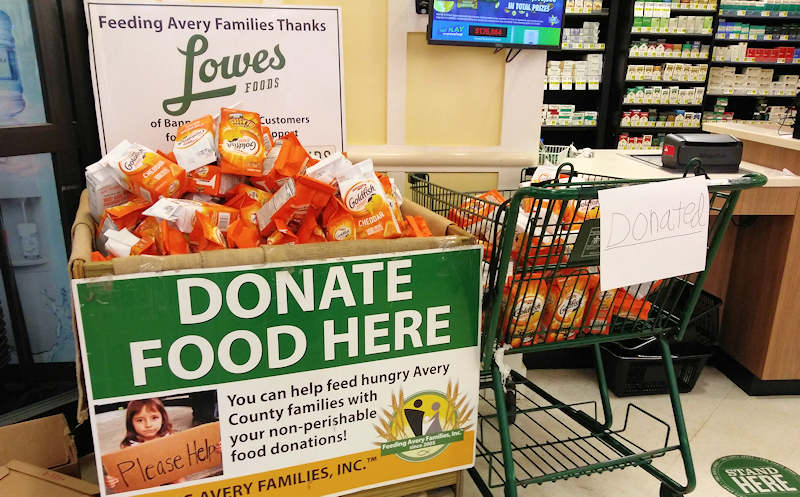 The next food donation item is Goldfish (above photo from October 3, 2020). That's especially interesting since the tomato soup labels have an image of a bowl of soup with goldfish floating in it, saying "goes great with Goldfish".