Welcome to Feeding Avery Families!
Feeding Avery Families (FAF) is a non-profit Christian organization in Avery County NC dedicated to eliminating hunger by any means possible including monetary donations, volunteerism, or food donations. We serve the beautiful Blue Ridge Mountain towns of Newland, Banner Elk, Beech Mountain, Sugar Mountain, Crossnore and Elk Park – providing enough food for 460,000 meals in 2019!
NOV 2020 UPDATE: Food Distribution Dates Nov 6, 13, 20 & Dec 4, 11, 18. We will not have distribution on Thanksgiving Friday or Fridays of Christmas Day or New Years Day. Thanks to generous customers at Lowes Foods & Food Lion, we will have extra food to give on the above dates. Our Community Pantries are open 24/7.  See more updates on food assistance for Avery County families during the Coronavirus Emergency. 
Need Food?
Feeding Avery Families distributes food in Newland (508 Pineola Street behind Carolina BBQ) by appointment. Stop in on the first four Fridays each month, 9:30-11:30 AM or 1-3 PM, to learn more and schedule an appointment – we are closed each 5th Friday (in 2021, they occur in Jan, April, July, Oct & Dec). Read about eligibility requirements.
Most of our food is distributed from our distribution center that is set up like a small grocery store. Using our "client selection" approach, each family fills their own shopping cart, assisted by friendly volunteer guides.  This system allows families to tailor what they receive to meet their individual needs and preferences. Clients visit once a month and leave with about 60 pounds of food. In addition to a wide selection of non-perishable items, clients "shop" for breads, desserts, meats, fresh produce and dairy products.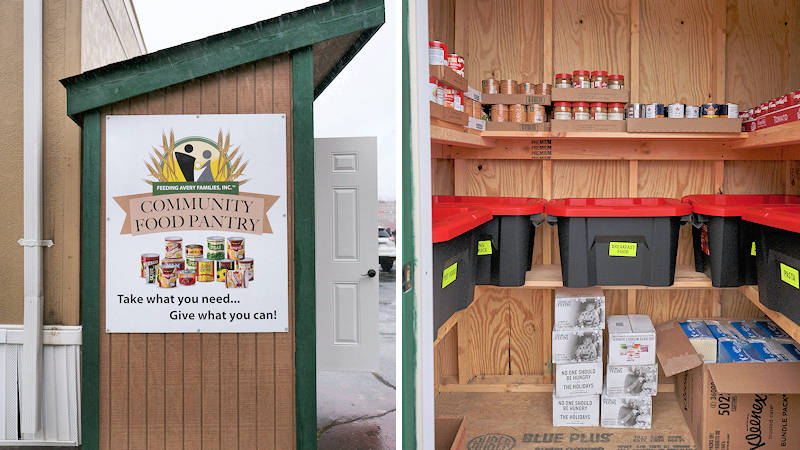 In 2019, we distributed 506,000 pounds of food – thanks to many hard-working volunteers and generous contributions. Each month, we give food to 1,300+ Avery County residents through these programs:
Food Distribution Center Friday markets
Community Food Pantries outside 5 schools (photo above)
Weekend Backpack Program distributed twice a week in schools
Want to volunteer?
Fantastic! Our hundreds of volunteers do most of the work. Read about current opportunities and sign up. 100% of all your efforts and/or contributions on behalf of Feeding Avery Families goes directly to Avery County families who still need help after exhausting all other available resources. FAF provides 63% of the food assistance in Avery County.
Want to donate?
Feeding Avery Families has provided supplemental food support for families in Avery County since 2005 and depends solely on donations, gifts, and grants from many area churches, businesses and individuals. Support is provided through financial donations, food drives, materials, services and volunteer hours. We are recognized by the IRS as a 501(c)(3) publicly supported, non-profit organization and contributions are tax deductible. Read more & donate now.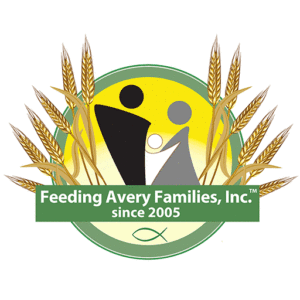 Where do we get the food?
Much of our food is delivered each week from MANNA FoodBank in Asheville. Volunteers also pick up food weekly from Food Lion and Lowes Foods in Banner Elk. Additional food comes from food drives by local organizations. Read about our partnerships.
Want to know more about us?
The Feeding Avery Families Distribution Center is located at 508 Pineola Street in Newland, NC. If you have questions, want to make a contribution, or volunteer, contact Dick Larson at 828-783-8506. You can also mail Dick at P.O. Box 1075, Banner Elk, NC 28604. Read more about us.
Fundraising Events
Check out our Summer Concert Series at Old Hampton Store and our annual Empty Bowls Fundraiser in August.