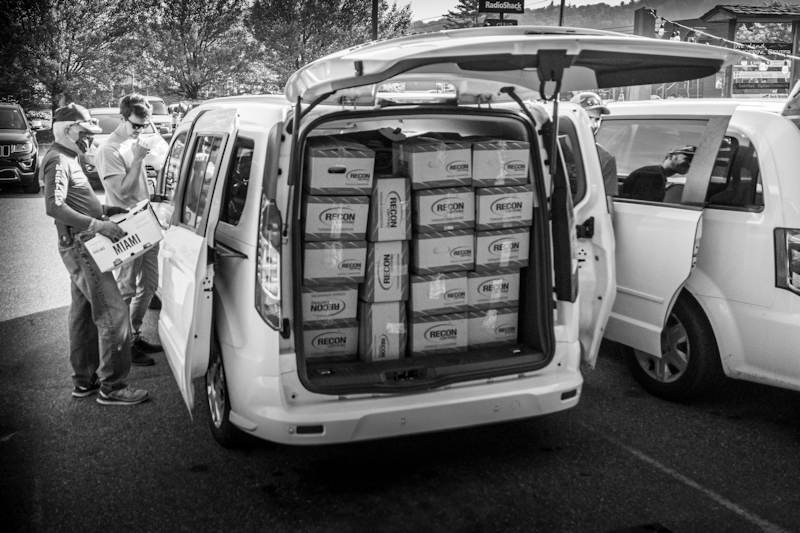 Today was the first day of a Summer Delivery Program organized to deliver food to the homes of the children of Avery County and their families. As the days have finally warmed and occasional thunderstorms roll across the surrounding mountains, it feels like there is fresh hope and a new beginning, although the food insecurity of many local families remains very real.
Now that the heroic efforts of the school bus drivers have come to an end, having delivered hundreds, if not thousands of meals and MANNA FoodBank boxes to families along their pre-COVID-19 bus routes, Feeding Avery Families has teamed up with Avery County Schools, Rams Rack, and First Things Foundation fieldworkers to take the baton from the bus drivers for the summer months of 2020.
Avery County Schools have contributed two delivery vans and one school bus to the program. Once they were fully loaded this morning, June 4th, with boxes of produce, food prepared by the local school cafeterias, and pre-packaged boxes of food from MANNA FoodBank, it became clear that the Feeding Avery Families' truck would also be needed.
It was immensely satisfying to see how seamlessly the contributions from these entities came together. The bus routes to the homes of 69 children and their families were given to the drivers and the first test of the program got underway.
A number of the homes were difficult to find in the rural areas around Newland, but once located many of the families were so grateful and some even surprised. They didn't realize that they would continue receiving support throughout the summer. For the volunteers, it was a great blessing to see the smiles on the faces of the parents and children alike.
On Monday we will all reconvene to discuss how the program worked today and how it can be improved. Until then, we can rest a little easier knowing that these families in our North Carolina mountains have food, and most importantly realize that they are not alone in this struggle. Warmest thanks to all who helped coordinate the program, and load and deliver these meals to our neighbors. We look forward to continuing for as long as it takes.