Feeding Avery Families (FAF) is a non-profit Christian organization in Avery County, North Carolina, dedicated to eliminating hunger by any means possible including monetary donations, volunteerism, or food bank donations.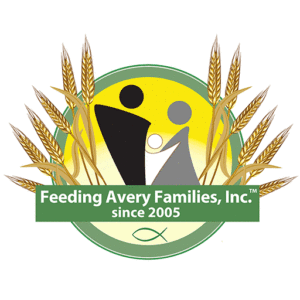 100% of all your efforts and/or contributions on behalf of Feeding Avery Families goes directly to Avery County families (including towns of Newland, Banner Elk, Elk Park, Pineola, Linville, Crossnore, Beech Mountain and Sugar Mountain) who still need help after exhausting all other available resources. FAF provides 60% of the food assistance in Avery County. We are an equal opportunity food provider.
Approximately 3,000 people (17%) living in Avery County experience some degree of uncertainty about their next meal during the year. That includes between 750 and 1,000 children. We are reaching less than 32% of those in need. Clearly what we are doing isn't enough.
Most of our work is done by dedicated, hard-working volunteers – with about 150 in the spring, summer and fall months and about 75 during the winter when many seasonal residents are away.
Administration (photo above)
Executive Director: Richard "Dick" M. Larson, MD (Center)
Co-Director: Jo-Ann McMurray (Left)
Community Outreach / Latino Initiative Coordinator: Vanessa Benavides Phillips (Right)
Bookkeeper: Patty Robinson

Ways We Provide Food
Wednesday Distribution
We moved into our new Operations Center in April 2023 – located at 189 Old Vale Road, Newland! We distribute food by appointment. Read about our Distribution Days.
Backpacks for Kids
We deliver small bags of food that school counselors put into backpacks of students. The bags are distributed weekly to 150 children in Avery County schools. Volunteers packed the bags at Feeding Avery two days a month.
MANNA Monthly FoodBank Community Markets
Drive-thru food pick-up in Newland at 11:30 AM until food runs out – at the Old Rock School Gym, 185 Shady Street, Newland. Usually on 2nd Thursday of each month. Open to anyone that needs food! Check our Facebook page for more updates.
Looking Ahead
Our health consultant is working on its partnerships with county and area businesses to provide further outreach and improve the health of clients and patients through nutrition education counseling and other health care services. We hope this allows us to reach even more hungry people in our communities – even working with doctors to write prescriptions for food. We will also focus more on getting more medically appropriate food to our clients with specific health needs.
If you have questions, want to make a contribution, or volunteer, contact us at 828-783-8506. You can also mail us at P.O. Box 1075, Banner Elk, NC 28604.
Board of Directors
Cathy Fields, Sheila Bauer, Laura Carringer-Russell, McNair Tornow, Rev Michael McKee, Joe Zemanek, Larry Good, and Tammy Woodie
Go to our News Blog for our latest updates.
FAF Annual Summaries
2022 Review
Top 21 of 2021
Top 20 of 2020