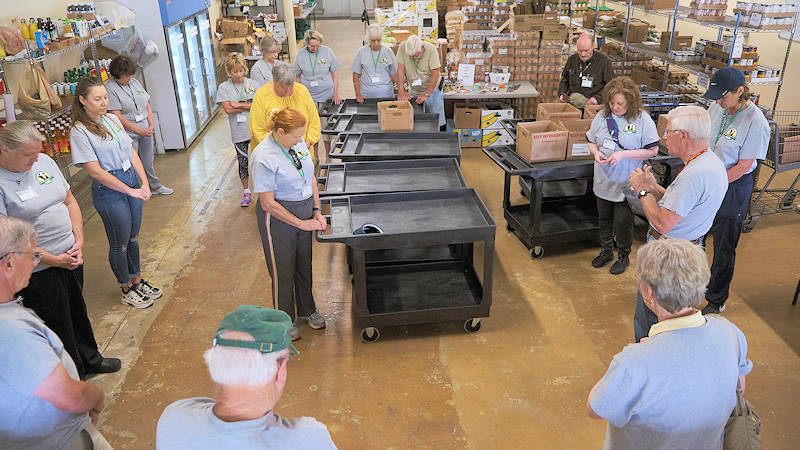 Volunteers are essential for Feeding Avery Families to fulfill its mission. They donate approximately 10,000 hours of their time each year, sorting, packing, driving, assisting, making and serving soup, parking cars and spreading love and good cheer.
CLICK HERE TO SIGN UP TO VOLUNTEER
Truck Unloading and Stocking:  On Thursday mornings from 9:30 to 11:30, trucks from MANNA deliver large quantities of non-perishable items, produce, meat, and dairy products. Volunteers assist with unloading the trucks and staging products for distribution to clients on Friday. While lifting is required for moving some products, there are plenty of "light duty" tasks such as placing products on shelves and packing bulk produce into individual bags. We need at least 10 volunteers each week for this.
Distribution:  On the first four Fridays of most months, clients shop for the items that best meet their needs. 40+ volunteers serve as receptionists, guides, stockers, loaders, floaters and team leaders. No experience needed! Just alert us that you are new and don't be bashful to ask other volunteers for guidance. Morning and afternoon shifts are available.
CLICK TO SIGN UP TO VOLUNTEER or contact Larry Zimmer at 585-230-4928 / lzimmer3@gmail.com.
Food Pickup: 4 days each week, volunteers pick up meat, deli and bakery items from Food Lion  in Banner Elk.  Volunteers also pick up donations from the "Friends Feeding Friends" campaigns from Lowes Foods at Tynecastle.
Box Pickup: Feeding Avery Families needs 500 – 600 boxes each month for food distribution. Volunteers collect boxes from Lowes Foods at Tynecastle on a daily basis to assure adequate supply for packing day. Please contact Art Webb at artwebb99@gmail.com if you can assist with food and box pickup.
Special Projects:  Volunteers are needed at various times throughout the year to support programs such as Empty Bowls, Woolly Worm Parking, Fund Raising Events, etc.