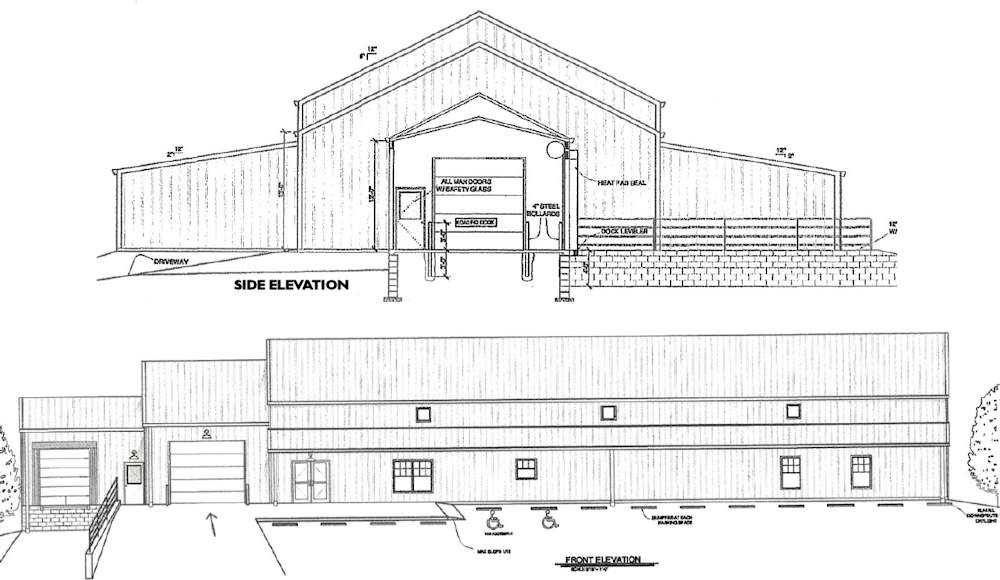 Goal: Move from "Life Saving" to "Life Changing"
Location: 189 Old Vale Road, Newland
(behind WAMY and Avery County Schools)
Builder: Dean Hagie, Elk Park
Total Cost: $1.25 million
Building: $560,000
Equipment / Furnishings / Shelving: $125,000
Land: $107,000
Engineer: $85,000
Site Prep: $175,000
Parking Lot Paving: $200,000
Financing or Donations needed: $600,000
Building Materials: Pole Barn design with wood support inside, wrapped in metal cladding
Square Footage: 10,000 sq ft (8,800 sq ft heated, 1,200 sq ft covered drive-thru/loading)
Completion Date: December 2022
Why Build?
We are out of room! The current rented two spaces have limited parking and total 5,100 sq ft (3,900 sq ft Distribution Center with 1,200 sq ft Storage Annex)
Doubling the current food distribution area from 10,000 sq feet allows the return to client choice, where clients pick out their own food in a "grocery store" setting, guided by a volunteer. This format reduces waste and creates personal relationships that allow us to identify and help with other client needs.
Additional storage space allows us to take advantage of last-minute opportunities to secure free food and personal care items in bulk quantities.
An additional cooler to store more fresh local produce, plus an additional freezer for more frozen meat. We will also move our existing coolers and freezers.
It will house our new Community Health Initiative, improving health and lifestyle by emphasizing nutritional education counseling and medically appropriate food to those with specific health needs.
Demonstration kitchen will provide healthy cooking classes and tastings for both adults and children.
Classroom for teaching by a nutrition professor and student interns from Appalachian State University.
Covered drive-thru for unloading donations and loading food for our initiatives.
Loading dock to receive larger shipments from MANNA FoodBank, safely and out of the weather.
Ability to provide mobile distributions at strategic locations in the county.
Ability to be open more days and more hours.
Meeting room for partner agencies such as the Avery County Health Department, Appalachian Regional Healthcare and Dept of Social Services to provide additional services to clients.
Building will also serve as a Disaster Emergency Center, in partnership with Avery County Emergency Management.
Learn more about us: Top 21 Accomplishments from 2021